This video reveals the evolution of stars in our Galaxy over the past million of years.It starts from the positions of stars in the sky 1 035 000 years ago, which were calculated using data from the Tycho-Gaia Astrometric Solution, or TGAS, one of the products of …
<img alt="…" src="http://www.esa.int/spaceinvideos/content/view/embedjw/488659" title="ESA |Gaia" />http://www.esa.int/spaceinvideos/content/view/embedjw/488659
Quelle: Catching speeding stars
2014 die ILA in Berlin:
Follow events at the space pavilion at the Berlin Air and Space show, streaming starts
at 21 May …
LinkeHome: http://www.esa.int/spaceinvideos/esalive
Quelle:ESA in depth
NASA @NASAAstronaut @Cmdr_Hadfield announced his retirement from @csa_asc. You inspired a lot of people & will be missed. bit.ly/19hL9Hu10. JunCanada Welcomes Home Canadian Astronaut Chris HadfieldLongueuil, Quebec, June 10, 2013 – Today, Parliamentary Secretary Chris Alexander, on behalf of Christian Paradis Minister of Industry and Minister responsible for the Canadian Space Agency (CSA), took
Sam Cristoforetti
@AstroSamantha
An alien monster attacking #ISS? #Dextre #Exp31 pic.twitter.com/0berv3SkbP11. Jun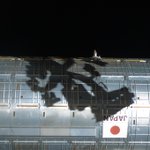 To say goodbye to these good people today was much harder than I expected.